GAME PLAY RULES FOR ALL MODES OF PLAY
Game settings All Star.
Everybody must use Zone hitting interface. You may swing with buttons or analog, but must be on Zone interface.
You may pitch with any setting you prefer.
No throwing to first base on any base hit to the outfield fielder by an outfielder regardless of runner. If in an infield shift you may throw to first with infielder.
You cannot retreat on any stolen base attempt. Once you go you must go regardless if you got a bad jump or if you know you are going to get thrown out.
You cannot start a steal before the pitcher begins his windup.
You cannot bunt with 2 strikes unless the pitcher is up to the plate.
You cannot bunt with 2 outs ever.
You may not advance 2 bases on a ball hit in the infield unless an error has been made.
Suicide or safety squeezes are only allowed with the pitcher at bat.
You cannot change a pitcher mid at bat ever. Once the first pitch is thrown, you must complete the at bat.
People should also respect when your opponent has a pitcher come up to the plate and give them a few seconds to pinch hit for the pitcher if they choose to do so. Please do not quick pitch with the pitcher up.
You may pinch hit at anytime in the count.
Starting pitchers cannot pitch more than 9 innings in a game. No exceptions of what their pitch count is at or stamina. 9 innings is the maximum.
Streaming your game is always best if you want to prove somebody is breaking rules. No stream means no proof.
---
GAMEPLAY RULES FOR VERSUS FRANCHISE LEAGUE
All rules above apply also to Versus League games also.
Each team will enter their team's game play statistics at the conclusion of each game.
Everybody must have at least a 4 man rotation throughout the regular season.
You have the option to use a 5th starter at your discretion.
If a player goes on the disabled list another starter must be used in his spot in the rotation.
A Manager may wish to spot start any starter also, and juggle your rotation.
Any starter can start at anytime as long as its has been 3 games since they last started.
If a Manager violates the rule the Commish will set the pitcher under the following rules of suspension.
1st Violation-- Player will be suspended 7 games.
2nd Violation--Player will be suspended 7 games plus 3 additional games.
3rd Violation-- Player will be suspended 7 games plus 7 additional games.
4th Violation-- Player will be suspended 7 games plus 15 additional games.
5th Violation-- Player will be suspended for the rest of the season.
Each Manager must monitor the rotation themselves.
All stats should be entered using the GAME STATS ReportT as soon as the game ends.
If a player closes the game on the Play Station please send in estimates based on your opponents Reportt.
Players who do not Reportt their games will not be allowed to play another game until they talk to the League Admin for clearance.
Mercy Rule
If a losing player chooses they can declare Mercy if the score is 10+ runs after 5 full innings of play, or if the Game declares a mercy.

Versus Franchise Playoff Format
Top 4 teams in each league will get a 1st Round Bye.
All other teams for 1st Round will play a best of 5 play in series.
All other series will be a Best of 7.
The 4 man rotation will carry through from the regular season on into the playoffs.
---
GAMEPLAY RULES FOR VERSUS RANDOM LEAGUE
All rules above apply also to Versus Random League games also.
PLAYERS WILL ALWAYS PLAY THE NEXT OPEN GAME ON THE SCHEDULE
PLAYERS WILL POST THE MATCH UP ON THE SCHEDULE BEFORE THE GAME BEGINS
THE FINAL SCORE WILL BE POSTED BY THE WINNER
RANDOM LEAGUE PLAYOFFS
PLAYOFFS WILL BE THE TOP 3 DIVISION TEAMS AND 2 WILD CARD TEAMS AS IN REAL MLB
THE 6 PLAYERS WITH THE MOST GAMES PLAYED WILL SELECT ANY OF THE 10 TEAMS FOR THE PLAYOFFS
USING THAT 1 TEAM THROUGHOUT THE PLAYOFFS
THE REMAINING 4 WILD CARD TEAMS WILL COME FROM ANY MOBL MEMBER PARTICIPATING IN A PLAY IN TOURNAMENT FOR ONE OF THE LAST SPOTS

---
GAME PLAY SETTINGS & INVITE METHOD
TOUCH THE PAD TO BRING UP YOUR FRIENDS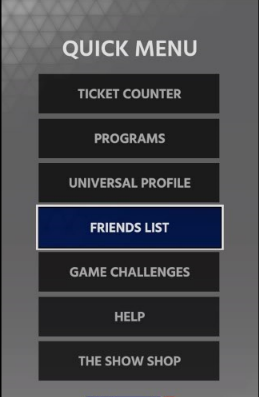 YOUR OPPONENT MUST BE ON YOUR FRIENDS LIST AND MUST BE SIGNED ON MLB 19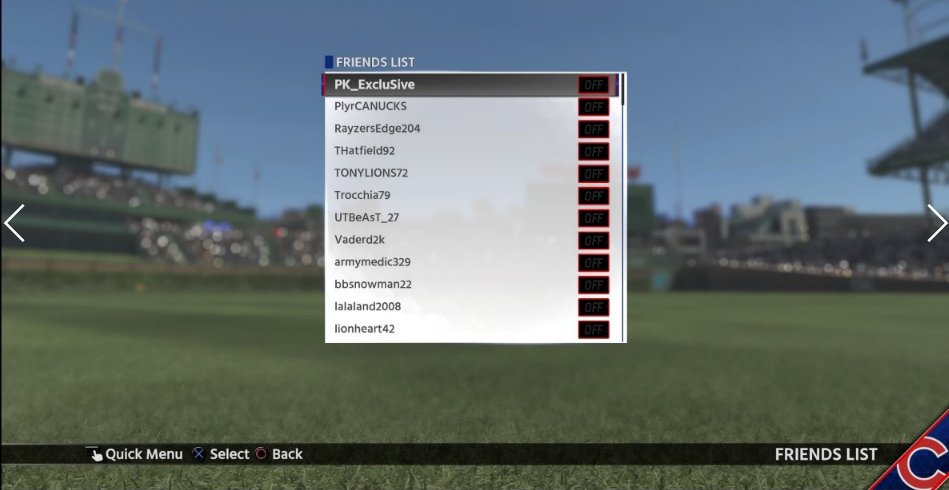 SEND THE INVITE BY TOUCHING THE PAD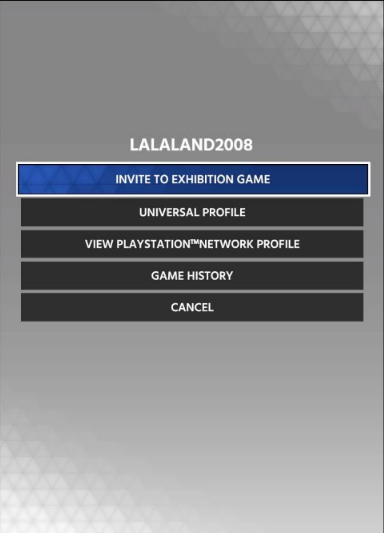 Each Player should be at this screen when invite is sent by Home Team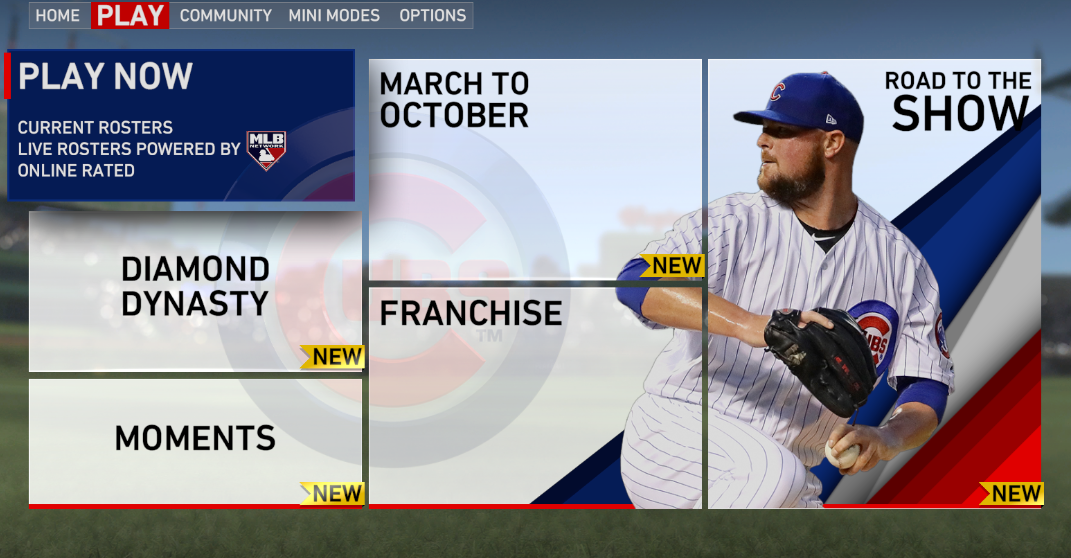 Make sure your hitting setting is set at zone.
Pitching whatever you wish.
The Hitting and Pitching Difficulty for this Season Should be set at All Star

STRIKE ZONES AND HOT ZONES WILL BE DISCUSSED BY THE GENERAL MANAGERS IF THERE ARE ANY CHANGES WE WILL UPDATE THE PAGE